I've previously written that while I really enjoy riding my 1993 Bridgestone RB-1/7, it's not the world's most practical bike since -- though it accepts larger tires than is fashionable by today's norms (in the 700x28 ballpark) -- said tires AND fenders are mutually-exclusive, unfortunately.
If Only...
Well, these days, the 650B wheel size gets us our tasty cake and lets us enjoy it too. (Preferably with a tall cool glass of chocolate milk, but I digress...) Check out some of these hot-rodded bikes that just make me, well, drool like Mr. Simpson over a donut. Or a Duff's beer. Or for that matter, both at the same time!
Check out D. Greenblatt's sweet conversion, a 1994 RB-1 that's been revamped from retro-racer to stately country tourer. Those wide stainless fenders and the elegant rear rack don't look out of place at all on this former racing machine. Amazing!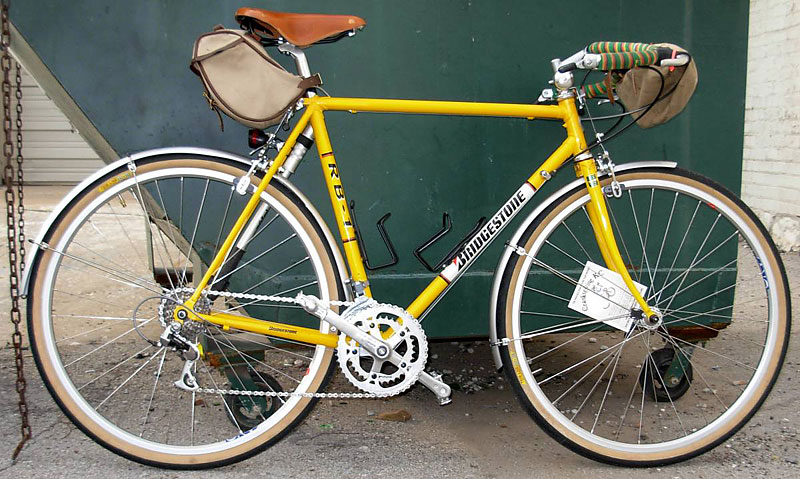 Here's Sarah Gibson's sporty yellow 1993 RB-1/8. Like the first bike, it too features moustache bars. The absence of a rear rack and the lower handlebar position lend this bike a sporty feel; it seems capable of nearly anything. At first glance I thought it was a repainted XO-1!
[Can't link to photo, dunno why...?]
Liza's 1994 RB-1
has been given new life as an all-purpose bike, quoting from the linked page...
The RB-1 was a race bike: built with standard gauge/diameter tubing, a more "lively" geometry, and room (just barely) for 700 x 28 tires w/out fenders. Liza used to ride this bike as a go-fast speedy bike, and really loved it. But the fact that she couldn't ride it with a skirt and she couldn't ride it around town in the rain, and she couldn't take it out on dirt roads all piled up to make a bike that was fun, but not too practical.
BS650_right_side
Originally uploaded by blovejoy.
Last but not least is an RB-1 forerunner... Bill L.'s six-fifty-bee converted Bridgestone 700 originally started life as a skinny-tired
sport bike
, now it's a great all-purpose adventure vehicle.
I'm really infatuated by these bikes, they are great examples of "make what you've got work" thinking, and someday I plan to follow suit by converting my bike to 650B, too!