According to
this forum posting
, Bill Duehring was the VP of Product at GT around the time the GT Tachyon was produced (later he was
promoted to COO
). Props to this guy! Who is he? Where'd he go? [Update:
Looks
like he's at
Felt Bicycles
now...]
Now read the text contained in the purple block in this catalog scan. I'm assuming Mr. Duehring wrote this, or at least was influential in authoring it. You might want to mentally substitute "650B" for "700D" since those wheel sizes differ by only about 3mm in radius:
Some quotes from the above:
...manufacturers and consumers alike assumed everyone wanted an ultimate off-road machine. Well, assumptions can be wrong...
Why doesn't anyone make a bike that's as tough as a mountain bike, yet as functional on the road as your old ten-speed?
Such sensibility and practicality is
rare
in today's bike market!
Now check out the other page of that catalog scan:
Note especially the inset photo of the front fork dropout, featuring
adjustable offset
:
New design Cross fork with adjustable offset offers four different front wheel locations and lets the rider choose.
I argued for exactly this type of multi-position dropout on the
KOG list
during the initial discussions about the design of the P/R frameset, but Kogswell instead decided to offer multiple fork options instead of this convenient design.
Now oogle the bike: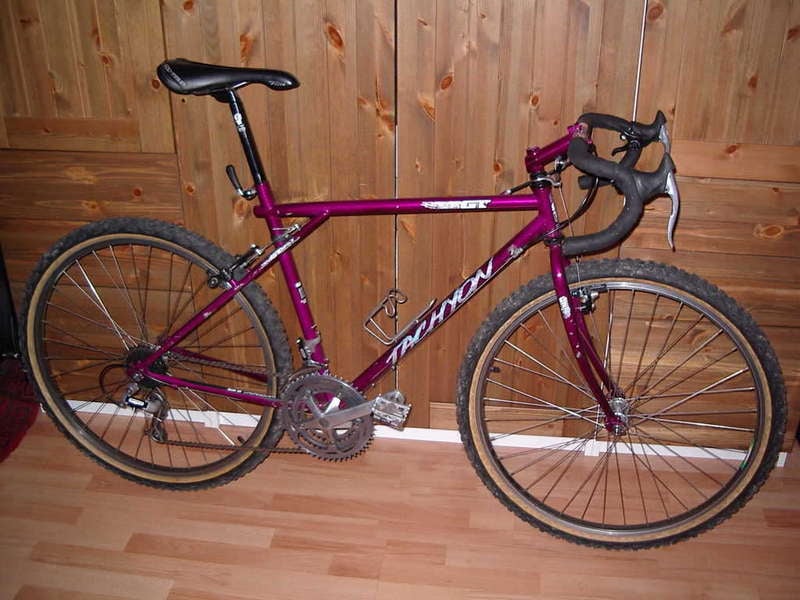 Hot damn!
I remember these things sitting on the floor of one of the shops I worked in during the early 1990's...I dismissed them due to the funny 700D wheel size, and the fact that they were (ugh) "hybrids". Ugh, indeed -- if I knew then what I know now, I'd have held them in as high regard as I do now. Of course I want one!
Apparently GT also made a few tandem models using the 700D wheelsize as well...
Labels: kogswell